*Guests encouraged to arrive early, pre-book parking, use cell phone waiting lots to help with increased vehicle traffic
(Los Angeles, CA) Los Angeles International Airport (LAX) is expecting a Thanksgiving travel period with up to 2.5 million passengers using the airport from Nov. 16 through Nov. 20, and more than 92,000 vehicles on peak travel days. Guests are encouraged to arrive early and pre-book parking in the newly opened LAX Budget Parking facility, LAX Economy Parking, or other official airport parking lots.
"We look forward to welcoming a significant increase in travelers during the Thanksgiving travel period, with projections indicating nearly 300,000 more guests than the previous year," said Bea Hsu, Interim Chief Executive Officer, Los Angeles World Airports. "To ensure a smooth journey, we recommend passengers allow extra time to access the airport and plan ahead by taking advantage of our award-winning services that allow guests to pre-book parking and place food and beverage orders before arriving at the gate."
Due to ongoing Caltrans work related to the closure of a portion of the I-10 freeway near Downtown, guests are advised to plan alternative routes to the airport and consider transportation including Metro, LAX FlyAway and rideshare services. Additionally, ongoing road closures in the vicinity of the airport may put more pressure on major roadways during peak traffic times. A new, interactive airport map shows real-time traffic updates so guests can plan their trip. Guests should plan to arrive in the terminal at least two hours before the boarding time for domestic flights and three hours before the boarding time for international flights.
Preliminary estimates show that up to 2.5 million passengers will use LAX from Nov. 16-27 this year. Passenger traffic at LAX is about 91.5% compared with 2019, according to TSA data. The airport expects the busiest days during the holiday travel period to be Nov. 17 with about 226,900 passengers, Nov. 19 with about 230,000 passengers, and Nov. 26 with about 225,000 passengers.
Vehicle traffic in the Central Terminal Area (CTA) is expected to be heavy during the travel period with more than 92,000 vehicles expected daily on peak days. Los Angeles Department of Transportation (LADOT) Traffic Control Officers will help direct traffic on perimeter roadways and additional Airport Police Traffic Control Officers will assist with vehicles in the CTA.
With increased traffic around the airport and parking garages nearing full capacity, guests are encouraged to reserve a parking space online ahead of time at Parking.FLYLAX.com, which allows guests to book a space in the newly opened LAX Budget Parking facility, as well as LAX Economy Parking and the CTA garages. Guests can use the promo code GIFT23 for 15% off all official airport parking except the Van Nuys FlyAway parking facility.
Two cell phone waiting lots are also open and provide a space for drivers to wait in their vehicles until passengers are ready to be picked-up from the terminal curb. This helps reduce traffic volume around the CTA. The lots are located at 96th Street and Alverstone Avenue, and 96th Street and Vicksburg Avenue. A helpful video on how to access the two lots can be found here.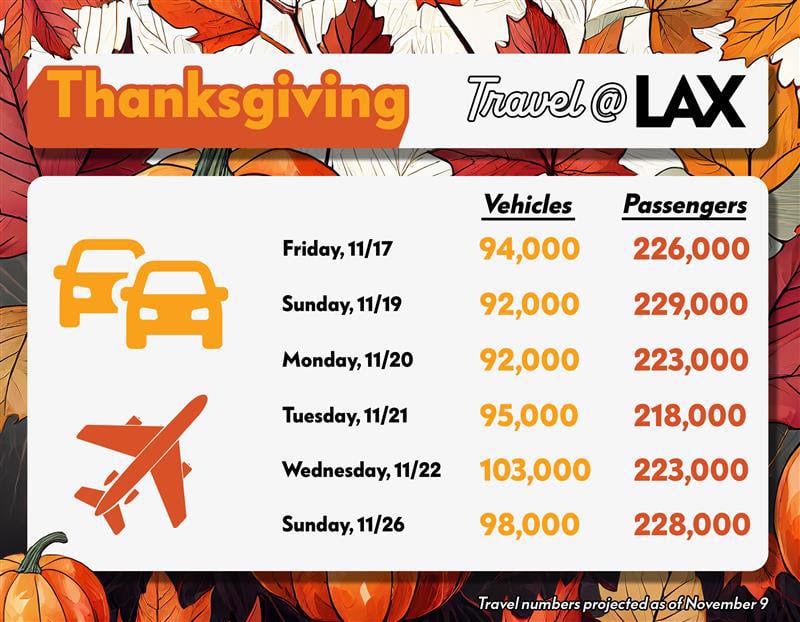 TSA Thanksgiving Travel Tips at LAX
Download your California digital ID. Plan now to use your California digital driver license or photo ID, which can be downloaded at no cost to your mobile phone, for identity verification in the TSA PreCheck® lanes in Terminal 7. Recently, the California Department of Motor Vehicles announced the availability of its digital ID. Use your digital ID in lieu of handing over your physical photo ID to the TSA officer.
Confirm your Known Traveler Number (KTN) in your airline reservation. Make sure your KTN and correct date of birth are in your airline reservation so you will be eligible for TSA PreCheck screening. There are more than 90 airlines that participate in TSA Precheck and TSA offers the TSA PreCheck experience at every airport nationwide. Children 12 and can use the TSA PreCheck lane when traveling with an eligible parent or guardian on the same itinerary. This holiday season, teenagers ages 13-17 can accompany TSA PreCheck-enrolled parents or guardians through TSA PreCheck screening when traveling on the same reservation and when the TSA PreCheck indicator appears on the teen's boarding pass.
Make a plan for traveling with holiday foods. Most foods can be carried through the TSA checkpoint, but there are some items that will need to be transported in checked baggage. Here's some food for thought: if it's a solid item, then it can go through a checkpoint in a carry-on. However, if you can spread it, spill it, pump it or pour it – and it's larger than 3.4 ounces (100 ml) – then it should travel in a checked bag. If you aren't sure how to travel with an item, download the MyTSA app and use the "What Can I Bring?" feature. Another option is to snap a picture of an item and send it to @AskTSA on Twitter or Facebook Messenger for real-time assistance. Travelers can also send a question by texting "Travel" to AskTSA (275-872).
Navigating Construction
The public is reminded that LAX's multi-billion-dollar modernization program continues. When arriving at and departing from LAX, passengers should follow posted signage near all construction sites. Guests are advised to make travel plans that avoid the roadway closures indicated on the map below.
To aid with efficient roadway travel, flaggers will be on location during the holidays to assist passengers. Additionally, a new interactive airport map shows real-time traffic updates. Guests can visit bit.ly/LAX-Traffic-Map for up-to-the-minute traffic details.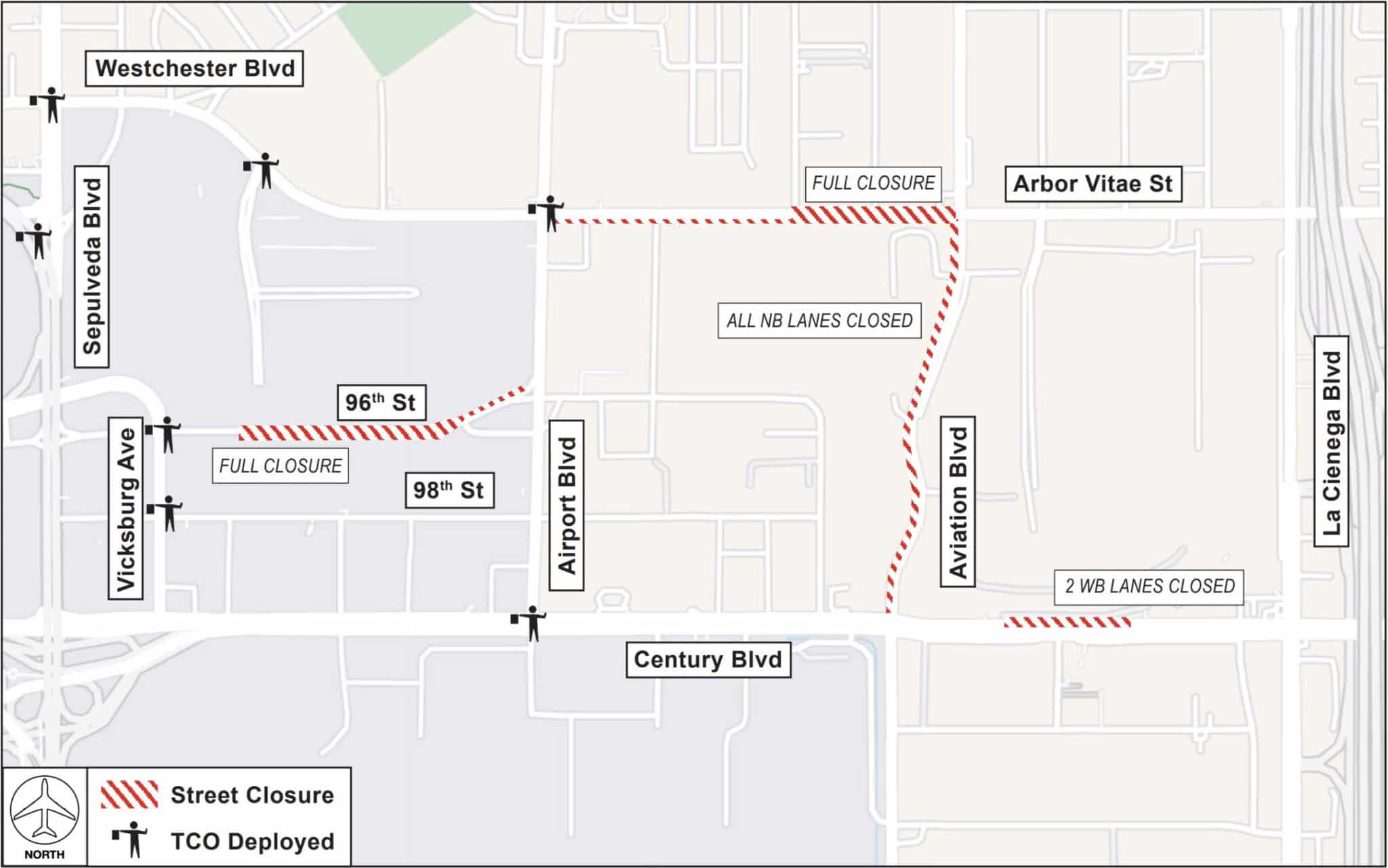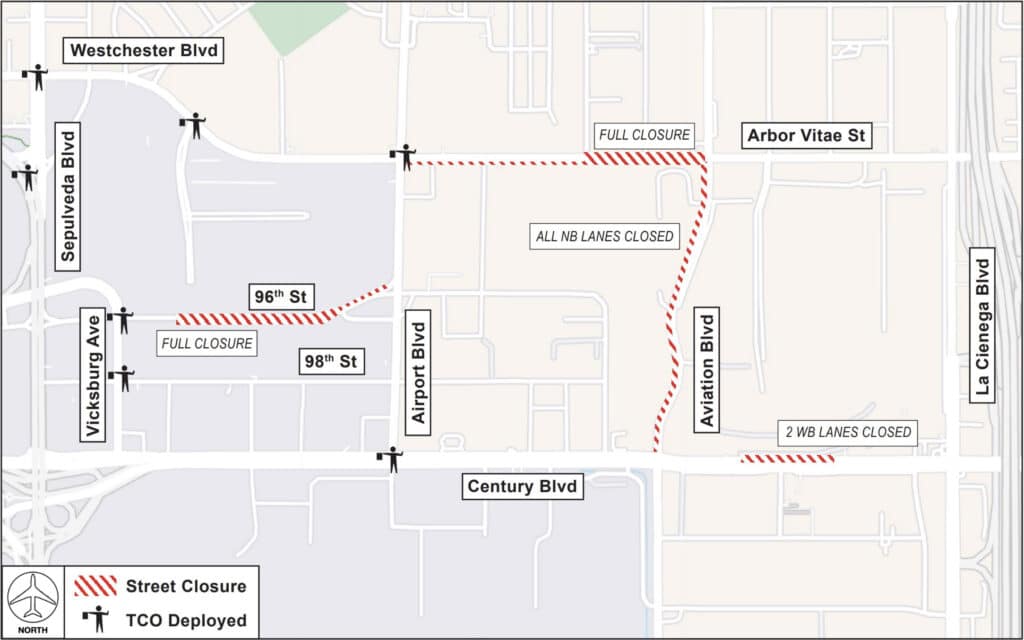 Other Tips for Success
Check in online with your airline before you leave for the airport, which may eliminate the need to utilize a check-in kiosk. If you are traveling without checked luggage, you can skip the ticket counters entirely.
Check parking options ahead of time. Real-time parking availability at LAX facilities is available here. Parking structures could fill up at any time, so be aware of off-airport private lots as alternatives.
Pre-book parking ahead of time. Visit parking.flylax.com  for the best rates and to plan your parking ahead of time. Parking options may include discounts from the drive-up rates, depending on availability and demand.
Picking someone up? Curbside pickup and drop-off is permitted on the Upper/Departures and Lower/Arrivals levels. All parking structures are free for the first 15 minutes. Consider waiting in the cell phone waiting lots until passengers are ready to be picked-up from the terminal curb.
LAX Order Now:: This program allows LAX guests to browse, order, pay for and pick up food from most of the airport's terminals using an online order system. The service is part of LAX's digital marketplace strategy to enhance the travel experience, by allowing guests to search, browse and order food and non-alcoholic beverages from any of the dozens of participating restaurants across the airport. The service is expanding in the Tom Bradley International Terminal with mobile ordering kiosks where passengers can place their order for pickup. Click here to view a video explaining the LAX Order Now service. Guests can use the promo code LAXTHANKS23 for 25% off all mobile orders.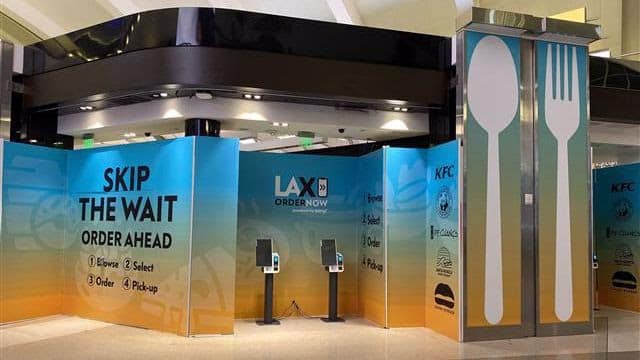 Expedited Entry and Exit
Guests flying out of Terminals 7-8 may reserve a time at TSA screening through a pilot program called LAX Fast Lane. This free program is being tested in coordination with TSA for customers traveling with United Airlines. Guests interested in this option can visit  www.flylax.com/fastlane to reserve a 15-minute window to proceed through security in Terminal 7. Once a customer has selected their time window, they will receive a QR code that they will show upon arrival at the security checkpoint. They will then be allowed to enter a reserved TSA screening lane. Airlines are reaching out to their customers who are traveling from LAX to notify them of this option. The LAX Fast Lane is open from 5:00 a.m. to 1 p.m. 
To help speed their journeys, travelers are encouraged to enroll in the Transportation Security Administration's Preè or other trusted-traveler programs, which improve security and reduce wait times.
Global Entry is a paid membership CBP program that allows expedited processing for pre-approved, low-risk travelers upon arrival in the United States. At LAX, Global Entry members enter the United States through upgraded facial biometrics portals eliminating paper receipts providing a secure, streamlined, and touchless experience while protecting the privacy of all travelers. The new portals can process a trusted traveler in a matter of seconds. After successfully completing a four-month testing period, LAX is now the first international airport in the country to deploy this enhanced biometric processing technology.
Simplified Arrival is CBP's enhanced international arrival process that uses facial biometrics to automate the manual document checks that are already required for admission into the United States. This process provides travelers with a touchless process that further secures and streamlines international arrivals while fulfilling a longstanding congressional mandate to biometrically record the entry and exit of non-U.S. citizens. Simplified Arrival only uses the biometric facial comparison process at a time and place where travelers are already required by law to verify their identity by presenting a travel document.
Catching a Ride
FlyAway® bus service is available to and from Union Station and Van Nuys, with parking available at both locations. Fares are $9.75 one way. Tickets can be purchased in-person at the Union Station or Van Nuys FlyAway Terminal. For pick-up at LAX, the FlyAway buses make use of dedicated inner lanes on the Lower/Arrivals Level. For more information on FlyAway, visit  www.LAXFlyAway.org. 
Municipal buses from LA Metro, Beach Cities Transit, Culver City, Santa Monica (Big Blue Bus) and Torrance serve the LAX City Bus Center, located on 96th Street, and connect to the CTA via the free LAX "Lot South/City Bus Center" Shuttle, which stops on the Lower/Arrivals Level. In the CTA, the LAX "Lot South/City Bus Center" Shuttle arrives and departs from stops labeled "Employee Lot South/LAX City Bus Center."
LAX also offers a free "Metro Connector" shuttle to and from the Aviation/LAX Metro Station on the C Line (Green) at Imperial Highway and Aviation Boulevard. The C Line connects to the J Line (Silver) and A-Line (Blue) for service to downtown Los Angeles. LAX shuttle drivers may ask for proof of payment/use of Metro via a TAP card for guests heading to the airport. The Metro Connector also arrives and departs from the pink stops on the lower level inner lane labeled "LAX Shuttle."
Two cell phone waiting lots are open to the public at the corner of Vicksburg Avenue and 96th Street, and Alverston Avenue and 96th Street. Motorists can park and wait for up to two hours, then drive to the CTA when their guests have arrived.
Guests who are leaving LAX via taxi or ride app vehicles (Uber, Lyft, Opoli) can walk to the LAX-it lot at 9610 Sky Way, across from Terminal 1, or take one of the LAX-it shuttles from stops located on the Lower/Arrivals Level. At the LAX-it lot, guests will find taxis as well as ride app vehicles. In addition to LAX-it, taxis can also pick up passengers from the Terminal B Pick-Up Area within Parking Structure 3 and from the Lower/Arrivals level outside of the baggage claim area of Terminal 7. Taxi and ride app vehicles continue to drop off guests curbside on the Upper/Departures Level.
Getting Help
LAX guests can find help at a number of places throughout their journey, including without having to interact in-person with a guest experience member.
By phone: Guests may call (855) 463-5252 for assistance during business hours, or email infoline@lawa.org to receive a response within one business day.
Restroom feedback: By pointing their smartphone camera at one of the QR codes on new signs installed at all restrooms, airport guests can provide fast feedback about the restroom via a drop-down menu or open comment option. Guests can also include a photo of the issue. All of this information is delivered to a maintenance dispatch center in real time. The new service is available in all restrooms at LAX, including all-gender and nursing rooms.
Vision impaired services: Passengers with impaired vision may use the Aira real-time navigation service, which is free to use at LAX. Guests can download Aira for free from the App Store on their Apple device or from Google Play on their Android device.
Online: An online, automated chatbot is available 24/7 to help answer common questions about LAX.